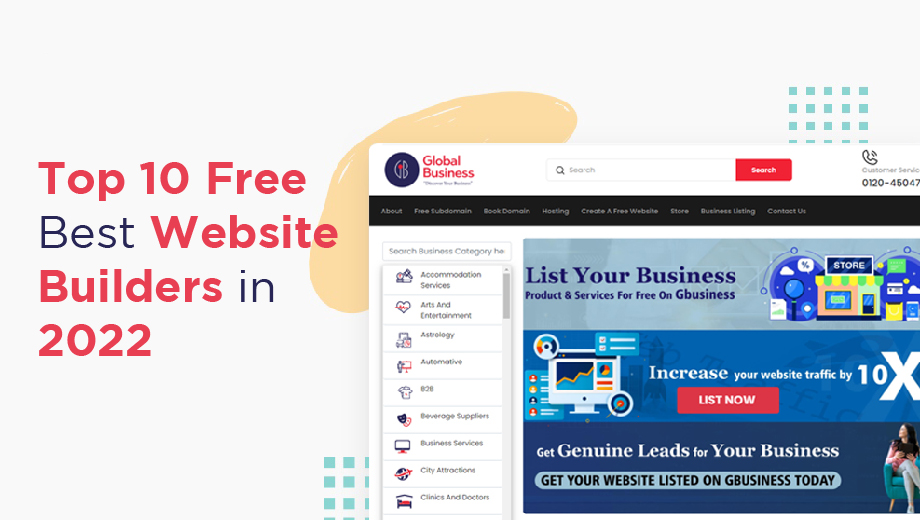 Domain
Global Gbusiness

01 Jun 2022
Luckily, free website builders make it much easier for entrepreneurs, bloggers, and small companies to design great websites on a budget.
In recent years, creating a website has become a pleasurable and painless task. You don't need to learn HTML or FTP. One of the biggest challenges these days is finding the right website builder from the many available options.
There is a lot of competition in the industry these days, and most website builders are offering free website building plans. All you need is a computer with Google Chrome or Mozilla Firefox installed.
What exactly are website builders?
Website builders are tools or plugins that assist in the creation of a website. These tools are extensive and offer everything you'll need to build a website without having to know anything about coding or web design. Today's website builders not only assist you in creating visually appealing and cost-effective websites that are mobile-friendly from the start. These websites can be linked to social networking and e-commerce platforms. To keep them current and safe, the sites may be updated over time.
Below is a list of the 20 best free website builders for 2022.
1. Wix: it provides you with hundreds of layouts, limitless pages, and high-quality hosting for free. It is simple to use, has a lot of features, and provides you with complete creative control over the appearance of your site owing to its drag-and-drop editor.
2. GoDaddy: it is well-known for its hosting and domain services, but it also has its website builder. There are a variety of pre-made templates that are classified according to the purpose of the website.
The tool is fully compatible with e-commerce websites. The primary aspect of GoDaddy is that it provides a one-month free trial. It allows you to test all of its features throughout the trial period.
3. Weebly: it is one of the most user-friendly free website builders available, with a superb small business plan. Weebly offers a drag-and-drop editor that is comparable to Wix. There are also excellent SEO tools, a free domain, and a free website builder.
4. Jimdo: If you want to create an online store, Jimdo is a wonderful free website builder to use. It is a fast-loading website builder with mobile-responsive designs. However, the features of Jimdo are restricted. It does not include a blog, an app store, or any other fancy tools. However, if you are a newbie who simply wants to get your website online, you will love the simplicity that Jimdo offers.
5. SITE123: It takes a novel approach to website creation. The tool addresses each section of the website separately, and each section has a unique set of options. It is one of the most user-friendly website builders. They have some nice responsive themes. It allows you to build a one-page or multi-page website. There is a good selection of plugins, and we found Site123 to be simple to use.
6. Gbusiness: It offers over 500+ free website builder layouts. Their drag-and-drop editor is user-friendly. It is simple to use and completely free. They also offer a mobile responsive website. They also have paid options that are quite affordable. The nicest thing about them is that they offer free subdomains and business listings to their customers.
7. Strikingly: it is a straightforward, user-friendly free website builder that is best suited for personal websites rather than business websites. A free website builder that allows you to construct simple, beautiful one-page websites. Strikingly's primary goal is to get you online inexpensively, effortlessly, and swiftly. As you establish your firm, you may use their free plan to create a single-page website to begin building your digital presence.
8. Webflow: This website builder is designed with web designers in mind. Webflow uses padding and section block regions instead of the standard drag and drop capability. Signing up for the tool is simple, and providing credit card information is optional. The user benefits from a variety of entertaining and detailed instructions on how to make the most of the tool. Although Webflow was developed with web designers in mind, it would be beneficial to incorporate drag-and-drop editing capability to make it more user-friendly for beginners!
9. Webnode: Their theme layouts are beautiful, contemporary, and responsive. All you have to do is pick a theme that fits your personality and add your personal touches to make it your own. Webnode is a famous free website builder, with over 30 million members worldwide. Despite the difficult sign-up procedure, Webnode publishes your template immediately, and you must go to your email to access the editor so you can begin modifying it.
10. Ucraft: The software has a good layout library for users to pick from, but the free plan only allows for one page. Ucraft is suitable for website owners that wish to place a strong emphasis on the user experience. From huge images to flashy fonts, the image-driven platform allows you to present your products or services powerfully. It's rather user-friendly, with easy-to-use templates and simple modification options on the left-hand side.
Conclusion: While some website builders are free, some require a one-time membership fee. Following current website trends, each of these tools or plugins has something unique to offer, making selecting the finest builder a challenging process. Consider the expenses as well as the convenience of use while looking for the best website builder for your website in 2022. To make your job easier, we can assist you in selecting the best website builder for you.